CHI
SIAMO
A.Manzoni & C. è una innovation multimedia company, focalizzata nel mondo della comunicazione e della pubblicità.
Azienda del Gruppo GEDI, uno dei gruppi editoriali italiani più rilevanti, è una piattaforma di soluzioni di comunicazione che si distingue per un approccio tailor made verso il mercato e orientato ai risultati.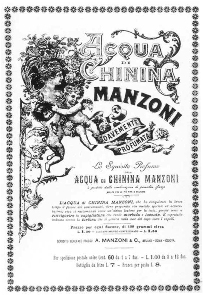 La Manzoni, founded in 1863, is the first Italian advertising sales agency.
Birth
In 1863, Attilio Manzoni, a pharmacist from Brescia, founded A. Manzoni & C. as a wholesaler of pharmaceutical and chemical products.
Advertising of pharmaceutical products
Manzoni's genius and intuition are immediately evident when, with advertising still at the beginning, he senses its importance and commercial value. In a context in which advertising had not yet proved to be an essential means of making products known for sale, Manzoni had the idea of ​​contracting for himself and his friends a part of the Italian newspapers of the time. These spaces are directly used to promote the products of their own company and
of the foreign pharmaceutical companies, of which the exclusive representation for the sale in our country was assured.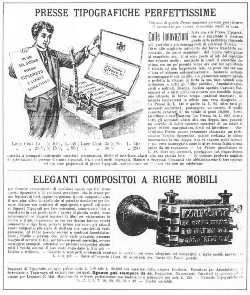 Fourth page
Manzoni's intuition is correct and begins to become a business. Thus, the "fourth page", intended for commercial advertisements, soon began to host advertising for companies and products that have nothing to do with the pharmaceutical and chemical industries.
Advertising sales
Attilio Manzoni thus created a real business, which until then had been inexistent: the administration of advertising in newspapers and magazines.
It is probably the first in Europe to set up a system of buying and selling advertisements.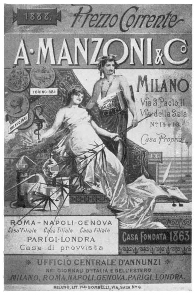 Storage houses
The company continues to expand and in 1888 Manzoni has, in addition to the Milan office, branches or "supply houses" in Rome, Naples, Genoa, Paris and London.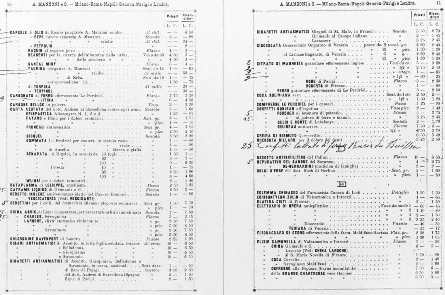 Prezzo Corrente
On the occasion of the National Exhibition of Milan in 1881, Manzoni begins publishing Current Price, catalog in alphabetical order and divided by category of mineral waters, medicinal specialties, surgical devices, dressing and perfumery items sold by Manzoni. As soon as it is released, Prezzo Corrente is immediately considered a valuable tool by manufacturers, pharmacists and individuals. Also in this publication, the advertising of pharmaceutical companies is soon joined by companies from other sectors that want to address their "qualified target".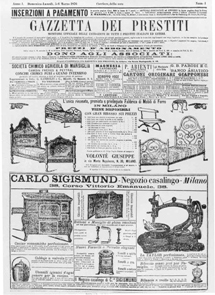 Corriere della Sera
Even Corriere della Sera in its first ten years of life entrusted the advertising service contract to Manzoni. The first issue released on Sunday, March 5, 1876 appears with the last of its 4 pages dedicated to paid listings. The fourth page listings cost 30 cents for the 7-point line. alle inserzioni a pagamento. Le inserzioni in quarta pagina costavano 30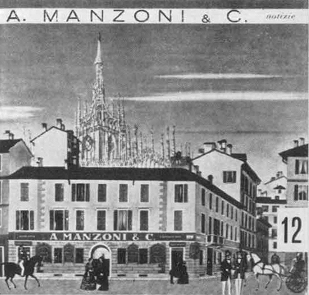 Communication
In anticipation of the times, in May 1959 Manzoni began publishing its own quarterly, elegant and modernly designed house organ, which is aimed not only at its employees but also at the broader public of its clients, especially in the advertising sector.
From print to multimedia
Manzoni continues to develop and grow, becoming the first Italian advertising agency for printed paper. It also states on new emerging media such as Radio and, more recently, Internet and TV, for the prestige and quality of services offered.